Testimonials
For over 20 years, families and individuals in Grand Prairie, Arlington, Mansfield, and the surrounding areas in Texas have been coming to receive high-quality dental care from Dr. Wilhelmine Park at Family Dentistry of Grand Prairie. Read about their exceptional experiences with our office below and then don't forget to schedule your family's next visit with Dr. Park!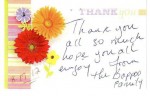 Thank you all so much hope you all enjoy.
From the Bappoo Family
---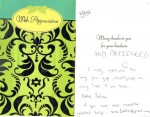 Many thanks to you for your kindness AND PATIENCE!!
I really appreciate the way you guys patiently help me every time I am here.
-Eddie S., 5/2012
---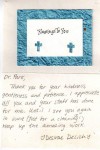 Dr. Park,
Thank you for your kindness, gentleness and patience. I appreciate all you and your staff has done for me. Until I see you again in June (just for a cleaning!) keep up the amazing work.
-Desirae D.
---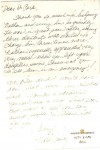 Dear Dr. Park,
Thank you so much for helping Nathan and seeing him so quickly. He was in great pain after seeing three dentists who wanted to charge him three times more! Nathan especially appreciated very very much when you left your daughters swim lessons at 7 pm to see him in an emergency! No other dentist would have done that…
-Nathan's Mom
---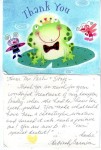 Dear Ms. Park and Staff –
Thank you so much for your wonderful treatment of my daughter, Bailey, when she had to have her teeth pulled. You made what could have been a catastrophic situation and turned it into such a positive one! You are now Bailey's "own special dentist!"
Thanks!
Deborah S.
---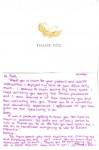 10/2012
Dr. Park,
Thank you so much for your patient and subtle instructions. I enjoyed my time at your office very much. I learned so much during my time there. I loved assisting you during the various procedures and I also learned a lot from observing you and from interacting with you. Thank you for a wonderful and educational experience. I appreciate all you have given me the opportunity to do.
Beth,
It was a pleasure getting to know you. We have so much in common! You really are an easy person to talk to. Thank you for all the tips you have given me. I will try to remember everything to use for future reference!
Kathy,
You have spent your time teaching me, training me and preparing me and I just want you to know that I appreciate you so much. Thank you for everything! You are a great teacher. Good luck to you!
-Theresa H.